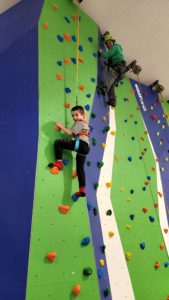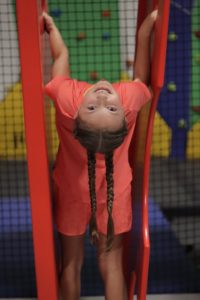 SUMMER CAMPS AT
USA NINJA NOOK! 
Does your child love to climb on the side of the doorway and turn your entire living room into their own personal obstacle course? 
Are you looking for something different for your child to experience this summer? 
Are you wanting your child to have the summer camp experience of a lifetime? 
Something they have never done before? 
Look no further!
Our state of the art adventure facility is the perfect place for your child to enjoy hours of fun and make new friends. Our camp will be full of non-stop fun and adventure leaving your child exhausted and eager for the next day to come!! 
They will rotate throughout the entire facility and have the opportunity to face their fears and master our ropes course, challenge themselves on the ninja course, put their grip strength to the test on our 20ft climbing fun walls as well as our boulder climbing wall (fully harnessed, of course!) as well as our chimney, race to the top of our 12 and 14ft warped walls, and also learn the basics of trampoline, tumbling and gymnastics!!!!!  All this under one roof!!!  After snack and lunch time, campers will also have some down time to do a fun themed craft while their bellies settle from their food before hitting the course again!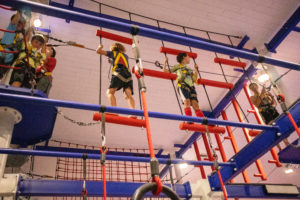 Open to ages 5+. Each camp is a week long and runs from 9AM-3PM Monday through Friday. They will need to bring a snack, lunch and a water bottle as well as their grippy socks each day.  Each camper will receive one FREE pair of grippy socks as a complimentary welcome gift! Friday is pizza party day! New themes offered every week to experience new adventures while making fun lasting memories! Pick your favorite week or do all 3!
Not only will your child be able to experience this state of the art adventure facility, but will also have first class instruction. Your child will learn a better sense of self-motivation, the ability to overcome obstacles, a better sense of self-esteem, and overall well-being all while having Fun!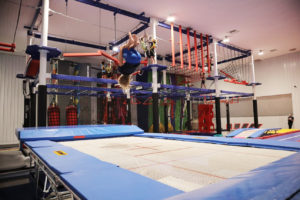 Enroll today, ADVENTURE AWAITS YOU!
Click HERE to register! 
SUMMER CAMPS AT UNITED SPORTS ACADEMY TRAMPOLINE & TUMBLING! 
 
Join us for a summer of FUN at United Sports Academy Trampoline & Tumbling (Scranton location) with our Gymnastics Summer Camps! These full day or half day camps will not only teach you the basics of gymnastics, ninja, and tumbling but will include trampolines, fitness, games and more! Friday is pizza party day! New themes offered every week to learn a variety of new topics and crazy crafts! Pick your favorite week or do them all!
United Sports Academy 1817 N Main Ave Scranton Pa 18508 (570) 354-2775
All camps run from Monday-Friday. Click here to register!