Our teams compete under the governing body of USA Gymnastics through the Junior Olympic program. We utilize 4 programs: Compulsories (levels 3-5), Optionals (levels 6-10), Xcel (bronze-diamond), and T&T (all trampoline disciplines and power tumbling levels). We also offer a unique, by-invitation-only  "hot shots" program for ages 6-8, as a bridge between recreational classes and team. This carefully selected group is comprised of those who show aptitude in focus, coachability, strength/flexibility, and the desire to be on the team. United Sports Academy boasts over 170 State champions and several regional and national medalists.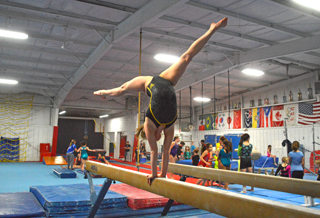 In addition, there have been numerous scholarships awarded to United Sports Academy's gymnasts from colleges and universities such as Cornell University, Rutgers University, Temple University, the University of Pittsburgh, Michigan State, The College at Brockport, Ursinus College, and Yale University.
Interested in one of our team programs?  Call the office today to set up an evaluation. We also hold team tryouts throughout the year.
Take a look at our team spirit during the 2020 COVID-19 pandemic. We are UNITED!